"Up We Go!" is the 20th and final episode from Season 3 of Barney & Friends.
Plot
Barney and the kids are playing outside on the playground, and a paper airplane that has a rhyme written on it mysteriously appears from the sky. They each get to take turns reading the rhymes and ask Barney what they mean. In the end, the kids find out it was Baby Bop's big brother, "BJ" who was writing all of those rhymes and Barney has a special flying surprise for BJ!
Stories: The Three Butterflies
Song List
Trivia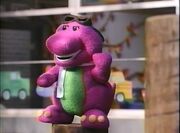 The final appearance of Julie.

The last episode to feature Carlos, Min, Shawn and Tosha.

The last episode directed by Bruce Deck.

The last episode to use the rearranged Season 1 version of "I Love You".
The plane Barney and BJ fly towards the end of the episode has "B 320" displayed on its tail. 320 is the episode number for this episode, making this an Easter egg put in by the producers.
Michael, Min, Kathy, Jason and Tosha will make their appearance again in the 10th Anniversary special, Sing and Dance with Barney.
Ad blocker interference detected!
Wikia is a free-to-use site that makes money from advertising. We have a modified experience for viewers using ad blockers

Wikia is not accessible if you've made further modifications. Remove the custom ad blocker rule(s) and the page will load as expected.