"The Exercise Circus!" is the eleventh episode from the second season of Barney & Friends.
Plot
Tina's ready to play in a big way after getting her cast removed, and the kids suggest staging a playground circus. Michael, the Ringmaster, introduces Barney, the Balancing Dinosaur; Derek, the Juggler; and the Tightrope Twins, Terrific Tina and Magnificent Min. Special Guest Joe Scruggs sings the song that really sets off the silliness, but in the end, the kids learn that exercise is good for your body and can still be lots of fun. Later on, Luci comes to visit. Barney also reminds us that hugging is an exercise that's good for the heart!
Educational Themes: The importance of exercise; Kinds of Circus acts
Song List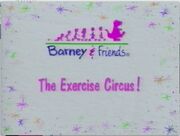 Cast
Trivia
Luci returns as a special guest in this episode, this is also her last appearance to date.
This episode was released on a two-pack VHS set along with Barney's Parade Of Numbers. It was later released as a separate video.