"Squares, Squares Everywhere!" is the fifteenth episode from Season 8 of Barney & Friends.
Plot
Barney and his friends join forces to help Nick with his homework and have fun at the same time! His assignment is to find 'squares' in his daily life, and the kids and the dinos join in the fun of searching for hidden squares – both inside and outside. A boot kickin', fiddle strumming square dance and a surprising 'square' meal add to the excitement. After a day with Barney and his friends, Nick's homework is in great shape!
Song List
Trivia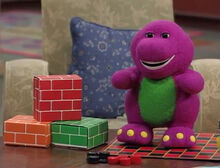 Video Releases
Ad blocker interference detected!
Wikia is a free-to-use site that makes money from advertising. We have a modified experience for viewers using ad blockers

Wikia is not accessible if you've made further modifications. Remove the custom ad blocker rule(s) and the page will load as expected.