Sara Egan (nee Hickman)
was born on January 15, 1986. She made her first appearance on the Season 3 Barney home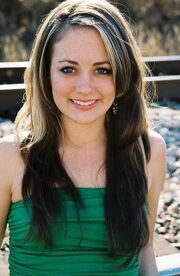 video "Fun & Games" then appeared in this Season 3 Barney home video "Once Upon a Time". She played the role of
Kristen
on Barney & Friends from Seasons 3 to 6 (1996-1999). She made her first appearance on the show on the first episode of Season 4 "First Day Of School".
Ad blocker interference detected!
Wikia is a free-to-use site that makes money from advertising. We have a modified experience for viewers using ad blockers

Wikia is not accessible if you've made further modifications. Remove the custom ad blocker rule(s) and the page will load as expected.