Riff is a six-year-old orange Hadrosaur who is Baby Bop and BJ's cousin and a friend of Barney's.
In 2006, Riff was added to the live show, Barney Live! - The Let's Go Tour (which it was after 8 months), he made his first appearance in "Let's Make Music", and he was "officially" introduced in the episode, "Welcome, Cousin Riff".
Riff's all about music. He hears music everywhere he goes. His theme song is none other than "I Hear Music Everywhere".
Creation
According to HIT Entertainment and executive producer Karen Barnes, Riff was created to add musical diversity to the series.[1]
Design
Riff is known for his crest lighting up, which makes music. Riff is orange with a yellow tummy with green spots and green spikes. Riff wears green sneakers with yellow socks and purple laces on them.
Portrayal
Costume Actors
Voice Actors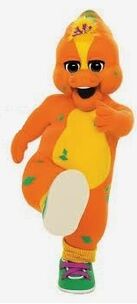 Trivia
Appearances
See Also
References
Ad blocker interference detected!
Wikia is a free-to-use site that makes money from advertising. We have a modified experience for viewers using ad blockers

Wikia is not accessible if you've made further modifications. Remove the custom ad blocker rule(s) and the page will load as expected.