"Red, Yellow and Blue!" is the seventh episode from the seventh season of Barney & Friends.
Plot
Sarah leaves a colorful trail of footprints to guide Mario to their Caboose Color Collection. Strangely enough, Mario's flying pig fits into the red collection perfectly as the kids sing the fun song, "The Flying Pig." But how does a haystack fit into the blue collection? And where will they find more yellow objects for the yellow collection? Miss Jo paints a yellow flower, and Sarah makes yellow flowers out of crepe paper. Baby Bop contributes her yellow blankey, which leads to a search for a substitute blankey - but red and blue blankeys are just not the same as her favorite yellow one. When Barney makes the yellow flowers magically grow, Baby Bop is delighted to get her yellow blankey back. The day is a celebration of primary colors but, like all days with Barney, it's primarily fun!
Songs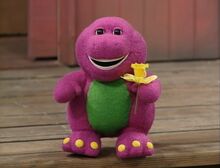 Trivia
Ad blocker interference detected!
Wikia is a free-to-use site that makes money from advertising. We have a modified experience for viewers using ad blockers

Wikia is not accessible if you've made further modifications. Remove the custom ad blocker rule(s) and the page will load as expected.