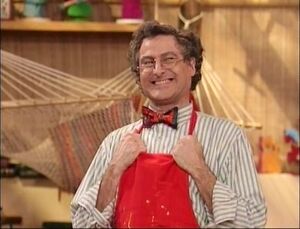 Professor Erasmus Q. Tinkerputt is a character who is played by Barry Pearl.
About Professor Tinkerputt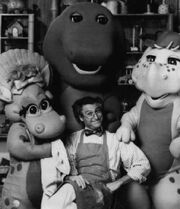 Professor Tinkerputt is a toy inventor, who became friends with Barney, the other dinos, and the kids. Tinkerputt used to live on Imagination Island, so that he didn't have to share his creations with anybody. In the special Imagination Island, Barney and his friends show him that it's nice to share with other people. Having just learned this, Tinkerputt helps them out on their situation about their stuck ship. After everyone leaves, he takes the ship to his new toy factory, which he shows off in Barney's Big Surprise. In Barney's Big Surprise, Professor Tinkerputt wasn't giving BJ a red scooter for his 7th birthday, but instead, Barney and Baby Bop gave BJ a red scooter for his 7th birthday. He was mentioned in Come on Over to Barney's House, Barney talks to the kids about that Tinkerputt had given him the "Spin the Globe Radio" as a gift and also seen in the video in a photograph. In addition, he was also mentioned in the new content of the video Barney's Dino Dancin' Tunes for giving Barney the Happy Dancing Music Machine.
Appearances
See Also
Ad blocker interference detected!
Wikia is a free-to-use site that makes money from advertising. We have a modified experience for viewers using ad blockers

Wikia is not accessible if you've made further modifications. Remove the custom ad blocker rule(s) and the page will load as expected.