"Practice Makes Music" is the 20th episode of Season 1 of Barney & Friends.
Plot
Michael is scheduled to play a cello solo at the school concert in a few days, and he is nervous about playing in front of all those people because he was having a hard time learning how to play it. Barney invites his friend Greg Murray to teach the kids about music, and help Michael learn that "practice makes perfect". Barney and the kids learn to identify musical instruments and their sounds, and to appreciate all the different varieties of music.
Stories: Emmit the Elephant Joins the Band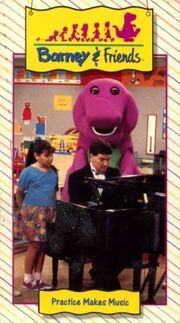 Song List
Piano Medley: (Pop Goes the Weasel, Mary Had a Little Lamb, Frere Jacques, Twinkle Twinkle Little Star)
Row, Row, Row Your Boat (Instrumental/Piano version)
Dance Medley
If You're Happy and You Know It (Instrumental)
Trivia
International Edits
In some international versions, this episode was shortened.