Pennies, Nickels, Dimes is the 3rd episode from Season 4 of Barney & Friends.
Plot
The children decide that Goldie, their pet goldfish, is lonely. They want to buy Goldie a friend, a castle, and a plant for the bowl. After counting their coins, they discover they need more money to make their purchase. Also, Stephen realizes he has lost his prized quarter. Unbeknownst to him, Scooter has mistaken the lost quarter for trash and squirrelled it away in his stash. The children search for the quarter but don't find it. They utilize the Barney Bag to make a piggy bank to hold their money. The children work together to earn the additional money to buy a fish and some accessories for the fish bowl. By selling lemonade and cookies and cashing in aluminium cans, they nearly make their goal, but they're one quarter short. Scooter comes to the rescue by returning the quarter, and Goldie gets a friend!
Song List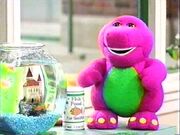 Trivia
Ad blocker interference detected!
Wikia is a free-to-use site that makes money from advertising. We have a modified experience for viewers using ad blockers

Wikia is not accessible if you've made further modifications. Remove the custom ad blocker rule(s) and the page will load as expected.