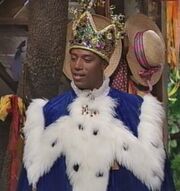 Old King Cole is a friend of Barney and Mother Goose. As his name suggests, he is a king and lives in a castle. Just like the Mother Goose rhyme that bears his name, he loves to party. He first appeared in Barney's Big Surprise and subsequently appeared in the Season 5 episode A Royal Welcome and in the 2005 video Can You Sing That Song? He was played by DeWayne Hambrick.
Appearances
Ad blocker interference detected!
Wikia is a free-to-use site that makes money from advertising. We have a modified experience for viewers using ad blockers

Wikia is not accessible if you've made further modifications. Remove the custom ad blocker rule(s) and the page will load as expected.