My Family's Just Right for Me
Talk

16
2,352pages on
this wiki
This article is about the Season 1 episode. For the song, see My Family's Just Right for Me (song).
"My Family's Just Right for Me" is the second episode of Season 1 of Barney & Friends.
Plot
Family Night is coming up the following week and the kids are having fun with families in different ways. All except for Kathy, who feels her family is too small. Barney comes and sees the others' projects for the special night, while she is in sorrow. Bringing it up to Barney later, he tells her that her family is a wonderful size. Luci reads a story about family pets, and Kathy leads the gang in singing My Family's Just Right for Me, to show her changed thoughts.
Educational Theme: Different and Special Kinds of Families
Stories: Animals are Family
Song List
Cast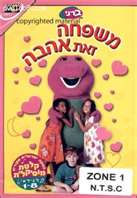 International Edits
In the Hebrew version, The Family In The Dell is not sung, and instead it skips to Barney and the kids going inside the classroom.
Trivia
This marks:
The quote "He's tangled up in the jump-rope again." references "Three Wishes".
Several elements from this episode were later reused for the Season 5 episode "The One and Only You".
This group (Tina, Luci, Kathy, Michael, and Derek) also appeared in "1-2-3-4-5 Senses!".
In the Hebrew version, where the cast member was singing "Hush Little Teddy" to her teddy bear, you can see Barney dancing in the background.
Tina's hairstyle from "Barney Goes to School" returns in this episode. It is later shown in "Our Earth, Our Home".
On the PBS Pledge Drive version of this episode, the songs "The Family in the Dell" and "Where is Family?" were edited out to make the episode shorter. Also the ending to "The Barney Theme Song" is different than the original version. The Barney Says segment is also much different.
Luci wears the same shirt in Happy Birthday, Barney! and I Just Love Bugs.
The horn from The Backyard Show returns in this episode.