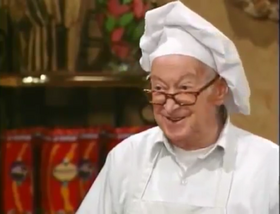 Mr. Cannoli is a baker chef/a friend of Barney's who only appeared in Walk Around the Block with Barney. He was played by William Garber.
About Mr. Cannoli
He works at his bakery.
He likes using ingredients to make cookies, cakes, donuts and more.
He really has to finish putting goodies in his display cases, so Barney and the kids help him out.
Ad blocker interference detected!
Wikia is a free-to-use site that makes money from advertising. We have a modified experience for viewers using ad blockers

Wikia is not accessible if you've made further modifications. Remove the custom ad blocker rule(s) and the page will load as expected.