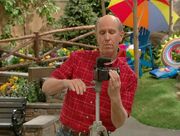 Grady Boyd is a character, played by Robert Sweatmon. He played a huge role in Seasons 3 through 8, often tagging along.
Info
Mr. Boyd is known for being a jack of all trades, meaning he has done multiple jobs. While he is best known for being the school's janitor and later a park keeper, Boyd has had experiences with various other professions. No matter what he does, Mr. Boyd always takes on the task with a gentle and calm demeaning.
He has a niece named Colleen, as well as a dog named Bingo. When he returns to the park in The Best of Barney, he has since become a photographer.
Occupations
Mr. Boyd's many jobs are all listed here: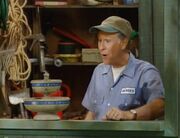 Appearances
Trivia