Movin' and Groovin' is a Barney Home Video that was released on March 9, 2004. Even though released first, this home video has two halfs and they split into Season 9 episodes, "Let's Make Music!" and "Movin' Along".
Plot
Barney and his friends are movin' and groovin' to the beat of the music! As they learn about rhythm and create their own musical instruments, Barney leads the band with a rat-a-tat-tat and a rooty-toot-toot. And they discover there are lots of ways to get a move on as they do the the Dino Dance. Then, after wiggling through a game of Simon says, they're off to the races. Barney's friends discover the fun of movement while making beautiful music together!
Cast
Song List
Gallery
Releases
Trivia
The 2004 UK release includes a bonus episode. The bonus episode is Play Piano with Me!, however the 2007 UK handycase doesn't include the bonus episode.
Videos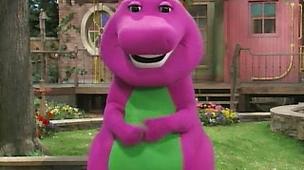 Ad blocker interference detected!
Wikia is a free-to-use site that makes money from advertising. We have a modified experience for viewers using ad blockers

Wikia is not accessible if you've made further modifications. Remove the custom ad blocker rule(s) and the page will load as expected.