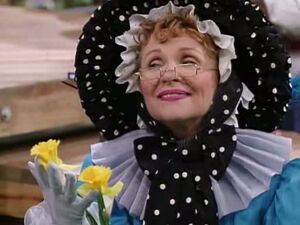 Mother Goose
is an imaginary author of fairy tales and nursery rhymes. She is also friends with Barney and visits him and his friends every once and a while. Oftentimes, she already knows his friends, as she knows the name of everyone who has ever read her rhymes. She was originally portrayed on
Barney & Friends
by
Sandy Walper
in the episodes
Let's Help Mother Goose!
, and
Honk! Honk! A Goose on the Loose!
Performers
Trivia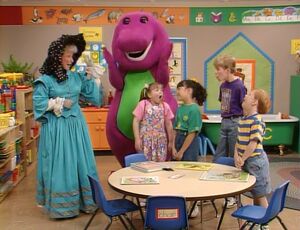 While Julie Johnson is playing Mother Goose in Mother Goose, Baby Bop, who she performs normally, doesn't say anything.
Mother Goose (Julie Johnson) has never appeared with Riff.
Mother Goose (Sandy Walper) never appeared with Tosha, Tina, Luci, David (Kenny Cooper), Jason (Kurt Dykhuizen), Baby Bop, or BJ. However, Min and Shawn appeared in both of her appearances.
Sandy Walper and Barbara Lowin make two appearances as Mother Goose while Michelle McCarel and Julie Johnson only make one appearance each.