Mario

Series Information
Type:
Main Character- (2002- 2004)

Guest Appearance- (2006)

Seasons:
7, 8, 10
First appearance:
All Aboard!
Last appearance:
Sharing
Portrayer:
Zachary Soza
Mario was a character that appeared from Season 7-8. He was played by Zachary Soza.
About Mario
Mario loves to read a lot of books
In "Me and My Family", it's revealed that he have a mom and a dad and also he has an older brother.
As mentioned in "A New Friend", Mario likes action movies.
In "Sharing", it's revealed that he and his Friends are starting a band. And he has an Old Scooter that he doesn't ride anymore so he gave it to Riff to trade for his old Didgeridoo.
Appearances
Season 7
Season 8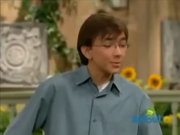 Season 10
Sharing (final appearance)
Home Videos
Ad blocker interference detected!
Wikia is a free-to-use site that makes money from advertising. We have a modified experience for viewers using ad blockers

Wikia is not accessible if you've made further modifications. Remove the custom ad blocker rule(s) and the page will load as expected.