Lights! Camera! Action!: A Movie Adventure
Talk

7
Lights! Camera! Action! A Movie Adventure is the 5th episode from Season 12 of Barney & Friends.
Plot
Melanie helps Grace's food drive by making a movie with help from all of her friends! Everyone tries to help out with Baby Bop wanting a movie with dancing, Riff wanting a movie with music, and BJ wanting an adventure movie, but all their ideas didn't go so well.
They had a few mishaps. Melanie soon comes to a conclusion that she can make a funny movie that everyone can see. They had a great time seeing the movie and it had a great help with Grace's food drive.
Song List
Trivia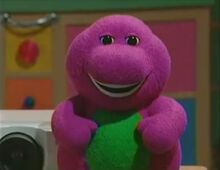 This episode marks:
When the movie is about to start, you can hear Baby Bop say that she's never been to the movies before, but in the episode, "Grandpa's Visit", Barney, Baby Bop and the kids were going to the movies.
This episode was used in "It's Showtime with Barney".