Let's Pretend with Barney (1993)
Talk

0
1,997pages on
this wiki

Let's Pretend with Barney is an episode video that was released on January 22, 1994. It contains An Adventure in Make-Believe from Season 2.
BJ needs to learn to use his imagination after he got a message from a fair princess, so Barney and the kids help him imagine from pretending to be under the sea to pretending to be cowboys and cowgirls and flying in a pretend airplane. They even save the fair princess Baby Bop from the jungle!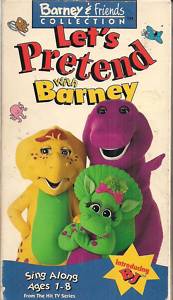 On the right side bottom of the front cover, it says "Introducing BJ" although his first appearance was in "Look at Me, I'm 3!". This indicates that this was the first commercially-sold video release to feature

BJ

, as Love to Read with Barney was his first appearance on video.