This article is about This article is about the 2004 episode home video.. You may be looking for the home video that was titled "Let's Pretend with Barney" in 1994..
"Let's Pretend with Barney" is a Barney Home Video that was released on May 11, 2004. It has two halfs of this home video and they split into two episodes: "Let Your Creativity Fly!", and "Imagine That!".

Plot
Imagine the fun you'll experience with Barney and his friends as they build their own airplane and go on a tropical island adventure. From pretending to be a pirate in search to find buried treasure, Barney's friends discover that creativity lets them soar on the wings of imagination!
Cast
Song List
Trivia
There's also a full bonus episode included which is the episode "Who's Your Neighbor?".
This was the last video to have its preview voiced by Dean Barnett/Earl Fisher.
This is the last video to feature the Season 7-8 Barney costume.
In the UK, this video called Let's Pretend! and included a 20 min featurette called Short Stories with Barney which included 4 stories. This featurette looked like it was filmed around the time of </nowiki>"Best Fairy Tales" was being filmed. This look liked it was a deleted scene.
Videos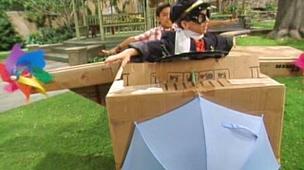 Ad blocker interference detected!
Wikia is a free-to-use site that makes money from advertising. We have a modified experience for viewers using ad blockers

Wikia is not accessible if you've made further modifications. Remove the custom ad blocker rule(s) and the page will load as expected.