Let's Play School is a Barney Home Video that was released in July 27, 1999. On August 8, 2000, this video was re-released and retitled "Barney's ABCs and 123s".
Plot
After hearing all sorts of fun the children have in school, Baby Bop wishes she could go to school too. So, with a little imagination, Barney creates a school just for Baby Bop and it is full of surprises!
Educational Theme: Baby Bop's Make-Believe School with School Activities
Stories: Little Yellow Riding Hood
Cast
Song List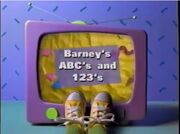 Trivia
This was the very first Barney Home Video to be released on DVD.
This video was the last to be under the Classic Collection label.
This video was included on the 6 DVD learning pack.
This is the first Barney Video to feature a Wiggles preview.
Gallery
Videos