"Let's Play School" is a Barney Home Video that was released on July 27, 1999.
Plot
After hearing all sorts of fun the kids have in school, Baby Bop wishes she could go there, too. So, with a little imagination, Barney creates a school for Baby Bop and it's filled with surprises!
Stories: Little Yellow Riding Hood
Cast
Song List
Trivia
Gallery
Releases
Videos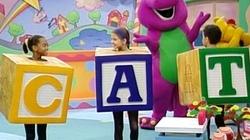 Ad blocker interference detected!
Wikia is a free-to-use site that makes money from advertising. We have a modified experience for viewers using ad blockers

Wikia is not accessible if you've made further modifications. Remove the custom ad blocker rule(s) and the page will load as expected.