Let's Go to the Fire House is a Barney Home Video that was released on March 13, 2007.
Plot
The home video starts where the firefighters being summoned to help a woman whose foot is stuck. But when they get her inside the ambulance, Chief Arnett realizes that their mascot/rescue dog Scout has disappeared.
A few days later, Barney and his friends honor the courage and caring of these everyday heroes. The adventure begins in the park, as Barney helps the children imagine what they'll be when they grow up. BJ finds a dog (who is really Scout, the missing rescue dog), and while Barney tries to explain that the dog may have a home, BJ doesn't want to listen to Barney's advice. A smoke alarm goes off in the caboose, and firefighters rush to the park. Fortunately, it's a false alarm, caused by one of Riff's inventions.
Baby Bop wants to know, "What makes a hero?" and BJ is surprised to learn that "his" dog may be the firehouse mascot and a working rescue dog. After an action-packed visit to the firehouse, Baby Bop understands what being a hero means - and she's found one more hero to honor....her big brother, BJ.
Filming Location: Frisco Fire Station #5 and The City of Frisco Texas
Cast
Song List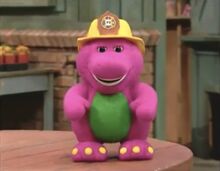 Trivia
The production for this video took place in May 2006.
This video marked:

The first video to have the current "HIT Entertainment" logo.
Another time something happens to the Barney doll before coming to life.
Another video to be filmed on location.
Ad blocker interference detected!
Wikia is a free-to-use site that makes money from advertising. We have a modified experience for viewers using ad blockers

Wikia is not accessible if you've made further modifications. Remove the custom ad blocker rule(s) and the page will load as expected.