Learn Spanish with Barney

App
Released
April 21, 2015
Developer
QB9 Entertainment
Publisher
Yuisy
Platform
Android
iPad
iPhone
Genre
Educational
Children
Preceded by
Learn English with Barney
Succeeded by
Color with Barney
Learn Spanish with Barney
is an app that was released Early 2015. It's the counterpart of
Learn English with Barney
, only this app teaches children spanish.
Description
Learn Spanish with Barney gives your children a very natural and effective approach to Spanish. They get to play simple, eductational games with Barney designed so that your children will learn new Spanish words in a way that is both encouraging and fun!
Become part of the learning and fun! Learning with Barney has a very complete reporting tool that was conceived with parents in mind, which will allow you to see, at any time, the progress that your children are making as they learn Spanish.
This is an official Barney and Friends brand product. This guarantees that Learning with Barney provides a safe, healthy and encouraging environment for your children to enjoy and learn in!
Key Points
Develops attention and association skills.
Teaches children new Spanish words and their meaning.
Encourages a sense of familiarity with the Spanish language.
Helps children to learn Spanish in a natural way by listening to Barney the dinosaur speak.
Provides a biweekly report for parents about the progress of all the children who play.
All of its content has been created by Spanish Language education specialists.
Characters
Content
Topic 1: Numbers
Topic 2: Animals
Topic 3: Colors
Topic 4: Fruits
Topic 5: Letters
Screenshots
Trailer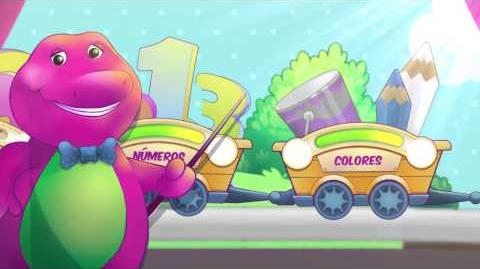 Trivia
Ad blocker interference detected!
Wikia is a free-to-use site that makes money from advertising. We have a modified experience for viewers using ad blockers

Wikia is not accessible if you've made further modifications. Remove the custom ad blocker rule(s) and the page will load as expected.