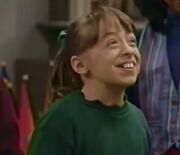 Julie was a main character played by Susannah Wetzel who first appeared in the Season 2 episode called "Honk! Honk! A Goose on the Loose!". Julie never appeared with Stephen, David, or Luci.
Family Life
Julie has her mom and dad, who adopted her, as well as an unknown sibling in her family. It was also mentioned that she has a grandfather in "I Can Be a Firefighter!". In addition, she has a dog named Scooter, whom she adopted from Min. Before Scooter, she had a cat who ran away. According to "The Alphabet Zoo", Julie has an aunt named Molly who travels all over the world (especially Australia) and tells stories. Julie also plays the piccolo, as seen in Barney Live! In New York City and "Who's Who on the Choo Choo?"
Appearances
Ad blocker interference detected!
Wikia is a free-to-use site that makes money from advertising. We have a modified experience for viewers using ad blockers

Wikia is not accessible if you've made further modifications. Remove the custom ad blocker rule(s) and the page will load as expected.