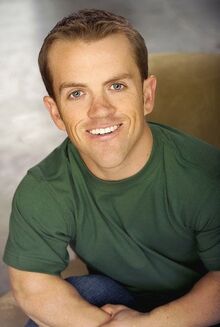 Jerad Harris is an actor who first performed BJ in the tour of Barney's Colorful World. Since then, Jerad has performed BJ in some home videos and has also performed Riff.
About Jerad Harris
Jerad is from Woodland Hills, California. He currently lives in Los Angeles, California. He is currently married to Megan Harris.
Appearances as Riff
Barney & Friends
Home Videos
Appearances as BJ
Home Videos
Live Shows
Trivia
Jerad Harris also performs Riff for the theme opening of Season 14.
Ad blocker interference detected!
Wikia is a free-to-use site that makes money from advertising. We have a modified experience for viewers using ad blockers

Wikia is not accessible if you've made further modifications. Remove the custom ad blocker rule(s) and the page will load as expected.