It's Nice to Meet You is a Barney & Friends Episode Video that was released on June 24, 2003. It was the video release of A New Friend (2002). 
Plot, Songs, Cast and Trivia
See: A New Friend. 
Trivia
The original title card for this episode was replaced with a new one, using the video's title.
Even though BJ and Baby Bop didn't appear in this video, they are seen on the back cover.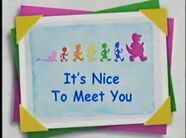 Ad blocker interference detected!
Wikia is a free-to-use site that makes money from advertising. We have a modified experience for viewers using ad blockers

Wikia is not accessible if you've made further modifications. Remove the custom ad blocker rule(s) and the page will load as expected.