"Hop to It!" is the fourth episode from the first season of Barney & Friends.
Plot
When Tina and Luci are playing basketball, Tina is disappointed when she can't perform a basketball trick like her sister can. Barney stops by to show Tina all the great things she can do with exercise. Barney and the kids play games and sing songs about exercise and find out how fun it is to learn about their bodies. With new found energy and confidence, Tina ends up being able to do the trick.
Educational Theme: Exercising and Keeping Fit
Stories: None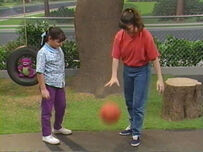 Song List
Cast
Barney (Body: David Joyner, Voice: Bob West)

Baby Bop (Body: Jenny Dempsey, Voice: Julie Johnson) (cameo)
Michael (Brian Eppes)
Luci (Leah Gloria)
Tina (Jessica Zucha)
Min (Pia Manalo)
International Edits
In the Hebrew adaption, the second and last verse of Animals in Motion are removed.
Also in the Israeli version of this episode (which is called "Hands on the Head" in that production), after the kids get Barney unstuck, if you look carefully behind the tree, you can see Baby Bop.
Trivia
This episode marks:
This group (Min, Tina, Michael, and Luci) also appeared in The Exercise Circus! (with Derek and Tosha).
It is revealed in this episode that Min doesn't like to take naps.
A different Barney doll is used in this episode. It would be seen again in Going Places!.
Wardrobe: