This article is about the episode. You may be looking for the song.
"Hi, Neighbor!" is the twenty-first episode of the first season of Barney & Friends.
Plot
Barney & Friends are in the mood for an adventure, and they have one, when they all help Baby Bop learn more about neighborhoods! From talking about crossing streets safely and Barney showing his "neighborhood" to making pretend neighborhood stops at the Grocery Store, the Post Office, the Library and Derek's Restaurant (where Derek's fake mustache as part of his chef outfit causes sneezing fits that ruins a spaghetti-and-meatball meal.) With a little imagination, exploring your neighborhood can be an adventure in itself.
Stories: Luci's Dinosaur Dream
Song List
Trivia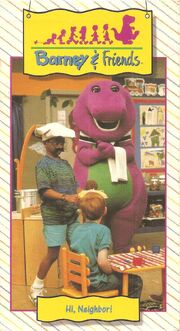 This episode marks:

The first episode directed by Bruce Deck.
The only time Barney mentions his own childhood when he referred to what his old neighborhood looked like. This is also the only mention of real dinosaurs on the show.

Baby Bop returns after being absent for 7 episodes.
Mr. Novak, one of the neighbors mentioned, is seen in Walk Around the Block with Barney.
The "imaginary pet dog" would later make a re-appearance in Best in Show.
When the song "I Scream, You Scream, We All Scream, for Ice Cream" begins, Luci already has an ice cream cone.
Ad blocker interference detected!
Wikia is a free-to-use site that makes money from advertising. We have a modified experience for viewers using ad blockers

Wikia is not accessible if you've made further modifications. Remove the custom ad blocker rule(s) and the page will load as expected.