"Guess Who?" is the first part of the thirteenth episode from the eleventh season of Barney & Friends.
Plot
Everyone is excited for Halloween tonight! Everyone knows what they're gonna be for Halloween. BJ is gonna be a pirate, Melanie is going to be a cat, David will be a superhero, and Baby Bop is gonna be a Ballerina Princess. Everyone has decided on a costume all except for Riff. Barney tries to give him ideas on a costume like a sailor, a firefighter, or a dancer. That night, everyone finds Riff wearing a one-man band costume. Then, the Halloween party starts!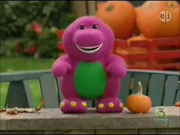 Songs
Trivia
Ad blocker interference detected!
Wikia is a free-to-use site that makes money from advertising. We have a modified experience for viewers using ad blockers

Wikia is not accessible if you've made further modifications. Remove the custom ad blocker rule(s) and the page will load as expected.