First Day of School
Talk

5
1,978pages on
this wiki
"First Day of School" is the first episode from Season 4 of Barney & Friends.
Tomorrow is the first day of school for Stephen! Eager to get a look at what he can expect, Mr. Boyd lets Stephen visit the school classroom a day early in the company of Barney and his friends. In the classroom, Barney shows Stephen and the others numbers and letters, books and music, art and more. BJ gets a lesson in 'indoor and outdoor' voices. Stella the Storyteller visits and tells the story of 'Wigglenose and Womp.' Meanwhile, in the treehouse, Baby Bop conspires with Miss Etta and Scooter to create her very own 'Baby Bop School,' a fun-house version of a 'real' school as envisioned by a highly imaginative three-year-old.
Educational Theme
Edit
School Preparation
Song List
Edit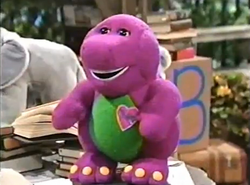 This episode marks the first appearances of Scooter McNutty and Miss Etta Kette.
This was the only episode to use the Barney costume from Barney's Good Day, Good Night.
This is the only time Maria appeared with Kristen and Stephen.
This marks the first time that a music video was shown within an episode.
Despite appearing in the episode, Baby Bop does not perform any of the songs.
Ray Henry was the puppeteer behind the elephant trunk.
Ashley wears the same shirt in A Different Kind of Mystery with the same hairstyle and Stephen wears the same shirt in E-I-E-I-O.