E-I-E-I-O (also known as "Barney's Fun on the Farm") is the final episode from Season 4 of Barney & Friends.
Plot
Barney and the kids visit Grammy Johannson's, Hannah's Grandmother, Family Dairy Farm to aquire a jug of milk to drink with their Peanut Butter Sandwich snack
Educational Theme: The Work on a Dairy Farm
Stories: The Little Egg Girl
| Cast | Song List |
| --- | --- |
| Grammy Johannson (Guest Appearance) | |
Trivia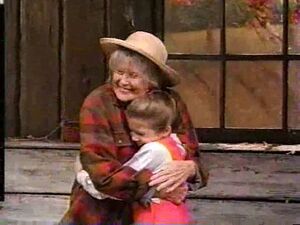 The farm set was the same as the one used in the home video It's Time for Counting.
This episode was released overseas on VHS, VCD, and DVD, often with Tree-Mendous Trees.
Adam Brown and Jeff Brooks both play the BJ costume for this episode. Adam Brown will return to play Riff in Season 10-11.