E-I-E-I-O (also known as "Barney's Fun on the Farm") is the final episode from Season 4 of Barney & Friends.
Plot
A make believe adventure leads to real life fun and surprises for Barney and his friends! A picnic lunch of peanut butter sandwiches touches off a quest for cold milk. Barney, BJ and the children are transported to a quaint family farm in Wisconsin, which belongs to Hannah's grandparents! "Grammy" Johannson gives the group a warm welcome. With some help from the Adventure Screen, Barney shows the children how a modern dairy farm works to produce milk for grocery shelves. The children learn that milk is made into other dairy products, too, and the group enjoys "shaking things up" while turning cream into homemade butter. Barney and Kim tell the story of "The Little Egg Girl," and BJ's surprise encounter with a sheep acquaints the children with wool and wool products. All in all, there's a lot to do and see on a farm!
Stories: The Little Egg Girl
Song List
Sheep Medley
Milk Song (reprise)
Trivia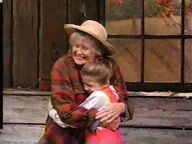 The farm set was the same as the one used in the home video It's Time for Counting.
This episode was released overseas on VHS, VCD, and DVD, often with Tree-Mendous Trees.
Adam Brown and Jeff Brooks both play the BJ costume for this episode. Adam Brown will return to play Riff in Season 10-11.