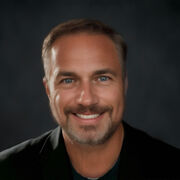 Dean Wendt is an American actor. He was born on February 17, 1968 in Elgin, Illinois.
He was a co founder/creator and Disc jockey on Radio Disney from 1994-1999 Season 4-11, but left the company in order to dedicate his time to voicing Barney the Dinosaur in 2001 after Bob West retired in 1999. Dean started voicing the purple pal in 2002 of Season 7.
Trivia
In contrast to the previous voice actors, Dean gives Barney a more nasal tone in his voice, making him sound almost like an average man.
Although he is best known for Barney's current voice, Dean Wendt also does many other voices for commercials.
Before voicing Barney, Dean was a DJ for Radio Disney.
To date, Dean Wendt is the longest lasting voice actor for Barney (voicing the character for 14 years). Despite the show's hiatus in 2009, Dean did voice Barney for the 25 Million Hugs Campaign, as well as Barney's appearance at CPTV's 50th Anniversary Special, the app Learn English with Barney, and the new version of the Barney website.
External Links
Dean Wendt's Interview - http://www.blogtalkradio.com/cloverleafradio/2015/03/04/cloverleaf-radio-presents-barney-the-dinosaur-dean-wendt-interview
Ad blocker interference detected!
Wikia is a free-to-use site that makes money from advertising. We have a modified experience for viewers using ad blockers

Wikia is not accessible if you've made further modifications. Remove the custom ad blocker rule(s) and the page will load as expected.