Come on Over to Barney's House
Talk

12
Come on Over to Barney's House
 is a Barney Home Video that was originally released on VHS on August 15, 2000 and originally released on DVD on September 5, 2000.
Plot
Barney invites his friends, including the viewer, to his house. Meanwhile, BJ and the Rockets are trying to come up with a new song and a dance to go along with it.
Cast
Song List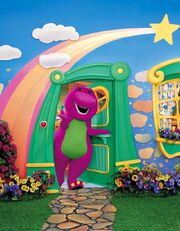 Barney Songs That Debuted In This Video
Trivia
This video marks:
As a prank, the beginning shows part of the Barney & Friends Season 3 intro (without the text) to some opening chords, but the intro screen rips and shows a CGI world, not to mention a CGI animated Barney.
This is the only time Nick appeared with Jill and Jeff.
Professor Tinkerputt is mentioned in this video.
The DVD version was included in the 2011 DVD set Play Date Pack, with all of the original trailers and bonus features.
Season 7 was originally going to take place at Barney's House, but HIT Entertainment scrapped it, so they could film it in a park.
Gallery
Videos