Caring Means Sharing
Talk

7
2,410pages on
this wiki
Caring Means Sharing is the 9th episode from Season 1 of Barney & Friends.
Plot
Min and Kathy fight over whose turn it is to play with Barney. So, through various songs and activities, Barney teaches them that sharing makes everything a lot more fun!
Educational Theme: Sharing with Friends
Stories: The Little Red Hen
Song List
Cast
Trivia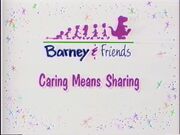 The billy goat puppet used in the "The Little Red Hen" play would reappear in "What's That Shadow?".
This was the first time something happened to the Barney doll before coming to life. It was when Kathy and Min were arguing on who should play with the Barney doll.
This is a rare time a character suffers from a tummy-ache. Another time was in "Circle of Friends". However, for this episode, Baby Bop had the tummy-ache, and in "Circle of Friends", and "BJ's Snack Attack", BJ has had the tummy-ache.
On the cover for the Time Life Video, the picture is from "The Treasure of Rainbow Beard", not this one.
Kathy wears the same shirt from the previous episode, "Going Places!", and will wear the shirt again in "What's That Shadow?". Min wears the same dress in Going Places! and Hola, Mexico!, except in those episodes she wears black Mary Janes instead of saddle shoes.
Derek wears the same shirt in Playing It Safe.
This group (Derek, Kathy, Min, and Shawn) also appeared in "What's That Shadow?", "When I Grow Up...", and "I Can Do That!".
This is the first time someone holds Barney while he comes to life.