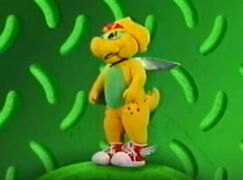 Captain Pickles
is BJ's super hero alter ego that first appeared in
Barney's Sense-Sational Day
.
In this form, BJ wears a green cape with a pickle on the back. He also wears a green mask and wings attached to his shoes. In the Season 9 episode "Let Your Creativity Fly!", Captain Pickles got his own song. He is also named after BJ's favorite food: Pickles!
BJ's Appearances as Captain Pickles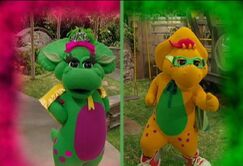 Trivia
In Stick with Imagination!, BJ used the name "Captain Pickles" while pretending to be a pirate, with no relation to his super-hero persona.
Ad blocker interference detected!
Wikia is a free-to-use site that makes money from advertising. We have a modified experience for viewers using ad blockers

Wikia is not accessible if you've made further modifications. Remove the custom ad blocker rule(s) and the page will load as expected.