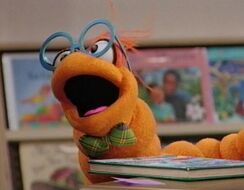 Booker T. Bookworm is a character who only appeared in Season 5 of Barney & Friends, though he appeared earlier in the video It's Time for Counting.
About Booker T. Bookworm
He is the imaginary librarian of the school library. As his name suggests, he is a literal bookworm, a worm that likes to read books. His name is a pun on the name Booker T. Washington.

Portrayal
Appearances
Trivia
Booker T. Bookworm never appeared with BJ.
Booker T. also makes an appearance in the Barney Book Barney & Baby Bop Go to the Library.
His name could be a reference to professional wrestler Booker Huffman, Jr.
Ad blocker interference detected!
Wikia is a free-to-use site that makes money from advertising. We have a modified experience for viewers using ad blockers

Wikia is not accessible if you've made further modifications. Remove the custom ad blocker rule(s) and the page will load as expected.