Though Barney was most successful on television and video, the purple dinosaur has toured the country and even the world, on stage show tours and personal appearances.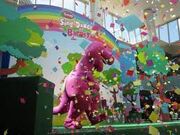 Barney Stage Shows
Outside North America
Theme Park Shows
Notable Personal Appearances
Ad blocker interference detected!
Wikia is a free-to-use site that makes money from advertising. We have a modified experience for viewers using ad blockers

Wikia is not accessible if you've made further modifications. Remove the custom ad blocker rule(s) and the page will load as expected.