Barney (doll)
Talk

0
2,017pages on
this wiki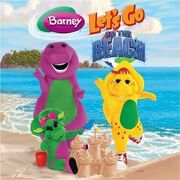 The Barney doll is the actual Barney when he appears it/transform into his real form is actually the kids imagination this is revealed in the theme song (if you just make believe him). Also, the real Barney will be transformed back to a toy after "I Love You" was sung. This Doll was used in every episode and video of Barney & Friends.
Barney Doll makes a cameo in Wario and Treasure Video Games Nintendo. As seen Wario headding to Sparkle Land as seen a sand to the Broken Ship.
There are some Barney Clip Shows that the Barney doll isn't even seen. However, A Very Merry Christmas and I Love My Friends feature the Barney doll.