Barney & Friends End Credits
Talk

2
1,996pages on
this wiki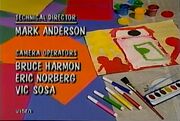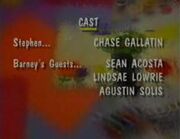 The end credits to Barney & Friends appear at the end of all episodes of the television series. The background and the music have changed over the years, but they still serve their purpose of giving credit to the show's cast and crew.
Background Changes
Edit
In the first three seasons from 1992–1996, the background consisted of an art table with paintings that change throughout the credits. In Season 1, the pictures related to the episode, while in Seasons 2 and 3, the pictures are the same for each episode. In addition, the credits for Season 3 have a "paint effect" on them, to blur the background.

Barney

Added by

Erla7

In Seasons 4-6 from 1997–2000, the credits showed different kids' feet or shoes tapping or rubbing in rhythm on a purple TV that shows the credits. This was done similarly to the intro at the time.
Song Changes
Edit
In the first three seasons, an original song played during the credits. In Season 3, it was sometimes shortened, if the credits were shorter.
In Seasons 4-6, the credits song was a remix of the one used in Seasons 1-3.
In Season 7-13 the song that plays during the credits is an instrumental arrangement of Barney is a Dinosaur. In Season 12 it was shortened.
Since Season 14 the credits song is the Barney Theme Rap.

Barney & Friends end credits Season 14-current episodes

Added by

Bigteddy