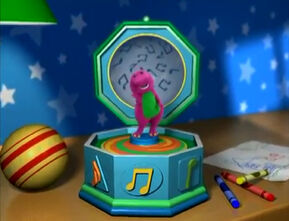 Barney's Music Box was a segment that first appeared during the re-airing of "Season 10". These segments showcased one or all the dinosaurs performing a verse from a popular children's song.
Purpose
In Season 10-11, this segment was placed in between the two mini-sodes. In Season 12-13, it was shown before the end credits.
Music Videos
Home Videos with This Segment
Videos
Ad blocker interference detected!
Wikia is a free-to-use site that makes money from advertising. We have a modified experience for viewers using ad blockers

Wikia is not accessible if you've made further modifications. Remove the custom ad blocker rule(s) and the page will load as expected.