Barney's Magical Musical Adventure is a Barney Home Video that was released exclusively to J.C. Penney stores in late 1992. It had a wide release on January 27, 1993.
Plot
Barney's friends are playing in Derek's backyard while building a sand castle. When they wish they could visit a real castle, Barney appears and takes them to a magical forest. They meet Twynkle the Elf who likes to play games and makes new friends. She shows them the road to the royal fairy tale castle where they ride pretend horses and meet a real king! After taking care of the royal fairy tale castle while the king goes fishing, the kids are made princes and princesses of the kingdom.
Cast
Song List
Trivia
Releases
Behind the Scenes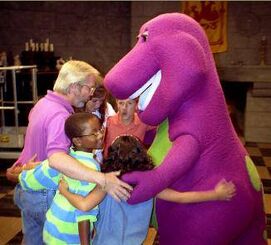 Ad blocker interference detected!
Wikia is a free-to-use site that makes money from advertising. We have a modified experience for viewers using ad blockers

Wikia is not accessible if you've made further modifications. Remove the custom ad blocker rule(s) and the page will load as expected.