Barney's Big Surprise is a live show that originally toured in North America from 1996 until 1998. The filmed performance of the show was released on home video on May 19, 1998. It was toured in Mexico and the United Kingdom, the Middle East, Asia, Argentina, and Brazil. It marked being Barney's third stage show and his first national stage show tour.
Plot
It is BJ's seventh birthday and everybody is getting ready for his birthday party. BJ really wants a red scooter with bells and a horn. The day leads to pretending to fly in an airplane, showing off the treehouse and even flying kites. When Barney gets a phone call from Professor Tinkerputt, he takes BJ and Baby Bop to see his new toy factory. Professor Tinkerputt shows off his new inventions and plans to take the Barney mobile to carry his large surprise. Barney and the other dinos, on the other hand, are told they will fly back in a hot air balloon that Tinkerputt helps them design. Flying through the clouds, they meet four ducks soaring through the skies. As soon as the three dinosaurs return to the treehouse, the party begins. Mother Goose stops by for the party and to catch her goose Clarence the Goose, who has ran off. She also introduces herself and shares some rhymes with everyone, while they're acted out by puppets and by the other friends. She then welcomes Old King Cole, who enters through the aisle and really makes it a party. After the king leaves, Professor Tinkerputt comes back and brings his surprise, which isn't a red scooter to BJ's surprise because he's not giving it to him. Instead, It turns out that Barney and Baby Bop got him the scooter actually and Professor Tinkerputt reveals his inflatable cake surprise (also known as the "Spectacular Spontanious Perfect Party Pastry Provider"). With the help of the audience, the candles are blown out and BJ is thankful for his party.
Cast
Songs
Act 1
Act 2
* Not on the North American soundtrack
** Cut from show before video was filmed
Songs That Debuted During This Concert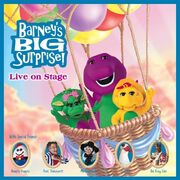 Music and Soundtrack
Main Article: Barney's Big Surprise! Live on Stage
Gallery
Releases
Trivia
This live show / video marked:

The first live show to feature a Barney doll at the beginning. It is also the first live show to feature The Treehouse. The next one to do the latter would be Barney's Theatre.
The last appearances of Professor Tinkerputt and Clarence the Goose.
The only time Professor Tinkerputt appeared with Mother Goose and Clarence the Goose.
The first time Mother Goose appears with Baby Bop and BJ.
The first live show to not have David Joyner as Barney's costume performer. Carey Stinson now takes that position, having done so in previous mall tours and as an alternate performer in Barney Live! In New York City.
The first video to use the 1998 Lyrick Studios logo.
The only appearances of Kevin, Cindy, Tony, and Rachel. This is also the first Barney live show to feature kids that never appeared in the television series.
The first live show in which the character voices were pre-recorded, unlike previous shows where they were preformed live.

David Voss, who was the original Barney costume actor, served as the Dance Captain and Cast Manager for the tour.
DeWayne Hambrick would later play Old King Cole in "A Royal Welcome" and Can You Sing That Song?.
This show won the 1997 Performance Magazine Reader's Poll Award for Best Family/Variety Touring Act of the Year.
The home video of this live show was filmed at the Lawrence Joel Veterans Memorial Coliseum in Winston-Salem, North Carolina in December 1997.
In the Barney News on the 1996 Family Magazine, the songs "John Jacob Jingleheimer Schmidt" and "Everyone is Special" were mentioned, but they do not appear in this live show.

The video aired on 

PBS

 in 1998, being the third of only eight 

Barney Home Videos

 to be televised. The first being 

Barney in Concert

 (aired during the 

Barney & Friends Family Marathon

) and the others being 

Barney Safety

, 

Barney's Night Before Christmas

 and 

Barney's Great Adventure, Barney's Christmas Star, Barney's Best Manners: Your Invitation to Fun!, Let's Go to the Farm, Barney's Jungle Friends, and Big World Adventure.
The Barney's Big Surprise logo was shown three times in this video.
Video
Barney Home Video
Barney & the Backyard Gang

•The Backyard Show (1988) • Three Wishes (1989) • A Day at the Beach (1989) • Waiting for Santa (1990) • Campfire Sing-Along (1990)
• Barney Goes to School (1990) • Barney in Concert (1991) • Rock with Barney (1991)

1992
1993

• Barney's Best Manners • Barney Rhymes with Mother Goose • Barney's Home Sweet Homes • Love to Read, with Barney

1994
• Let's Pretend with Barney • Barney's Alphabet Zoo • Barney Live! In New York City • Imagination Island
1995

• Barney's Families are Special• Barney Safety • Making New Friends • Riding In Barney's Car • Barney Songs

1996

• Barney's All Aboard for Sharing • Barney's Talent Show • Barney's Fun & Games • Barney's Exercise Circus / Barney's Parade of Numbers • Barney's 1-2-3-4 Seasons • Once Upon a Time

1997

• Barney's Sense-Sational Day • Barney's Colors & Shapes • Barney's Musical Scrapbook • Camp WannaRunnaRound
• Barney's Adventure Bus • Barney's Stu-u-upendous Puzzle Fun! • Barney's Good Day, Good Night

1998

• It's Time for Counting • Down on Barney's Farm • Barney in Outer Space • My Party with Barney • Barney's Big Surprise
• Barney's Halloween Party • Barney's First Adventures • Barney's Good, Clean Fun! / Barney's Oh, Brother...She's My Sister

1999

• Sing and Dance with Barney • What a World We Share • Walk Around the Block with Barney • Let's Play School
• Barney's Night Before Christmas • More Barney Songs

2000

• Barney's Rhyme Time Rhythm • Barney's Super Singing Circus • Come on Over to Barney's House • Be My Valentine, Love Barney

2001

• Barney's Musical Castle • A to Z with Barney • Barney's Dino Dancin' Tunes • Let's Go to the Zoo • Barney's Pajama Party

2002

• You Can Be Anything • Barney's Beach Party • Round and Round We Go •Barney's Christmas Star

2003

• Barney Songs From the Park • Read with Me, Dance with Me • Barney's It's a Happy Day! • It's Nice to Meet You
• Barney's Red, Yellow and Blue! • Barney's Numbers! Numbers! • Barney's Best Manners: Your Invitation to Fun! • Happy Mad Silly Sad

2004

• Movin' and Groovin' • Let's Pretend with Barney • Now I Know My ABCs • Barney's Colorful World! • Ready, Set, Play!

2005

• Let's Go to the Farm • Just Imagine • Everyone Is Special • The Land of Make-Believe• Can You Sing That Song?

2006
2006

• Let's Go to the Fire House • Shake Your Dino Tail! • Dino-Mite Birthday

2008

• Celebrating Around The World • Barney's Animal ABC's • Hi! I'm Riff!• The Best of Barney

2009

• Once Upon a Dino-Tale • Top 20 Countdown • Let's Go on Vacation • Sharing is Caring! • Barney's Jungle Friends • We Love Our Family

2010

• Please & Thank You • Egg-Cellent Adventures • Let's Play Outside • Furry Friends • A-Counting We Will Go • Best Fairy Tales

2011

• Musical Zoo • Shapes and Colors All Around • I Can Do It! • 1-2-3 Learn • Big World Adventure • A Very Merry Christmas

2012

• I Love My Friends •Clean Up, Clean Up! • Planes, Trains & Cars • All About Opposites • Most Loveable Moments • Let's Go to the Doctor

2013

• Let's Go to the Moon • Play with Barney • Dance with Barney • Imagine with Barney • Most Huggable Moments• Perfectly Purple

2014

• Story Time with Barney • Happy Birthday, Barney! • A Super-Dee-Duper Day • This Is How I Feel

2015

• Tee-Rific Bugs & Animals • It's Showtime with Barney • Barney's Worldwide Adventure!

2016
2017
Other Releases
Feature Film
Blockbuster

•Play and Learn with Barney •Barney's Favorite Songs•Barney's Big Top Fun •Barney's Time For School •Barney's Rockin' Rhyme Time •Barney's Valentine Adventure •Moving and Grooving with Barney • Barney's Night Light Stories•Barney's Island Safari •Barney's Learning Round-Up•Going Places with Barney • On The Move with Barney •Barney's Summertime Fun • Barney: Sing Along Fun

Rereleases

• Barney's ABCs and 123s • Barney's Outdoor Fun! •Let's Go to the Beach •Barney's Book Fair • Fun on Wheels
• Mother Goose Collection
Ad blocker interference detected!
Wikia is a free-to-use site that makes money from advertising. We have a modified experience for viewers using ad blockers

Wikia is not accessible if you've made further modifications. Remove the custom ad blocker rule(s) and the page will load as expected.