Barney's Beach Party
(later retitled "
Let's Go to the Beach
") is a
Barney Home Video
that was released on VHS and DVD on April 30,
2002
. On February 7,
2006
, it was released under a different title, "
Let's Go to the Beach
".
Plot
Surf's up! So grab your beach towel and sunscreen and join Barney for a day of fun in the sun at the beach. From sail boating to flying kites, you'll enjoy a day of sun, surf and surprises with your favorite dino pal. And you'll make new friends like Mr. Boyd at a very special beach party with authentic hula dancing lessons. No trip to the beach would be complete without a handmade sandcastle. So get ready to hang ten with your purple pal when you go to the beach with Barney!
Educational Theme: The Beach
Trivia
This video marks:

The first Barney DVD to be produced by HIT Entertainment.
The one of the first videos to be closed captioned by Caption Technologies, Inc.
The only 2002 Barney & Friends Second Generation home video not to feature Robert.
The final appearances of Kim and Jeff. However, Erica Rhodes (Kim) would later appear in the Season 10 episode Dancing as a Hip Hop dancer.
Another time something happens to the Barney doll before coming to life. It's when Danny dries off the wetness on Barney with a red/yellow towel.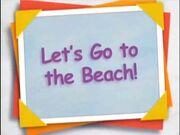 In the release of this, the video utilized the Season 5-6 version of the theme song. In the release of "Let's Go to the Beach", the theme song was re-edited to use the Season 7-13 version.
In some scenes of this video, Duncan Brannan actually voices Barney alone.
Also, between April 26-28, 2002, the video was shown on the 30-foot Sunset on the Beach screen in Waikiki. This presentation was followed by a 20-minute sing-along with Barney, Baby Bop, and BJ performing songs from the video, as well as an encore performance of "Wipe Out".
Video