Barney's Stu-u-u-upendous Puzzle Fun is a Barney Home Video, which was originally packaged with the Actimates TV Pack. The video is enhanced when being used with Actimates Barney, However, it can still be watched without owning the doll or TV Pack. It was released on September 11, 1997.
Plot
With the Actimates Barney doll by your side, you can help him solve a ten piece puzzle as well as watching some favorite moments from Season 3 episodes and some home videos.
Song List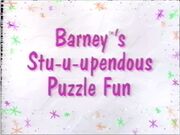 Gallery
Trivia
Ad blocker interference detected!
Wikia is a free-to-use site that makes money from advertising. We have a modified experience for viewers using ad blockers

Wikia is not accessible if you've made further modifications. Remove the custom ad blocker rule(s) and the page will load as expected.