Barney's Number Friends

Author
Mark S. Bernthal
Illustrator
Darren Mckee
Publication date
May 1, 1996
Published by
Scholastic Inc. / The Lyons Group; First Edition edition (May 1, 1996)
Publication Order
Preceded by
Barney Plays Nose to Toes
Followed by
Bedtime for Baby Bop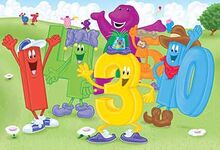 Barney's Number Friends was a book released in 1996.
Plot
Get ready to count from 1-10 then do it again! This humorous, rhyming story featuring numbers as friendly characters will help young children learn to count and recognize numbers from one to ten.
Characters
Ad blocker interference detected!
Wikia is a free-to-use site that makes money from advertising. We have a modified experience for viewers using ad blockers

Wikia is not accessible if you've made further modifications. Remove the custom ad blocker rule(s) and the page will load as expected.