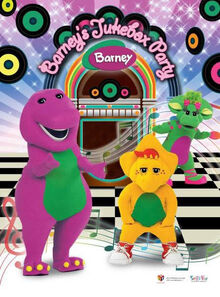 Barney's Jukebox Party is a mini stage show that first performed June 6 - 21, 2015 at City Square Mall. The show again performed December 19, 2015 - January 3, 2016 at the Tungjungan Plaza. Along with Barney, the show features Baby Bop, BJ and Cat in a sing and dance along musical celebration.       
Songs
Gallery
City Square Mall
Tungjungan Plaza
Trivia
Videos
Promos
Ad blocker interference detected!
Wikia is a free-to-use site that makes money from advertising. We have a modified experience for viewers using ad blockers

Wikia is not accessible if you've made further modifications. Remove the custom ad blocker rule(s) and the page will load as expected.