Barney

Series Information
Type:
Main Protagonist (1988-present)
Seasons:
All seasons
First appearance:
The Backyard Show
Portrayer:
See below
This article is about the character. For the TV show, see Barney & Friends.
Barney The Dinosaur is a two hundred million year (two dinosaur years) old, six-foot tall, purple tyrannosaurus rex with a green belly and spots and yellow toes, who comes to life through a child's imagination. He is best known for his friendly, kind, optimistic personality and positive attitude.
Creation
Barney was first created in 1987 by Sheryl Leach, who was looking for a way to entertain her then 2 year old son, Patrick. Originally Barney was going to be a blanket. When that was proven to be too hard, he became a teddy bear who came to life. However, Patrick was fascinated by a dinosaur exhibit at a museum, particularly the Tyrannosaurus rex, so Sheryl made Barney a T-Rex. Kathy Parker, who had helped Sheryl create the character, agreed to the change, but on the condition that he was not to appear menacing (a realistic t-rex would have scared her daughter Kaitlin). In the end, he was colored purple to appeal to both genders (Leach had a thing for the color purple as well), had his features softened (i.e. "toe balls" in place of claws), and was named Barney. His costume, as well as the costumes for his Dino companions, Baby Bop and BJ, were designed by Irene Corey Design Associates.
Portrayal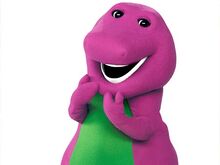 Costume Actors
Voice Actors
Catchphrases
Trivia
See also