The Barney and the Backyard Gang Barney Plush is a toy that was released in 1989.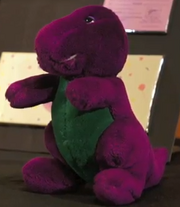 In the early days of the Barney franchise, children lacked the plush toy seen in the video. Parents demanded that, among other things, a doll would be produced, so the kids would be able to have a "real" version of the dinosaur himself. Ads began showing up in the videos, promoting the Barney Fan Club and offering dolls to people who signed up. Early Dakin dolls had white strips on the mouth.
This Dakin produced doll is used in the Rock with Barney video, replacing the similar looking Barney doll used in earlier Backyard Gang videos.
More Barney merchandise was released once Barney & Friends began airing on PBS.
Bootlegs
There were also bootleg versions of the Dakin doll, with differences to avoid being sued by Lyons.
Ad blocker interference detected!
Wikia is a free-to-use site that makes money from advertising. We have a modified experience for viewers using ad blockers

Wikia is not accessible if you've made further modifications. Remove the custom ad blocker rule(s) and the page will load as expected.