BJ is a 7-year-old yellow male Protoceratops who has been on the show since Season 2 (1993). He is a good friend of Barney's and is the older brother of Baby Bop, whom he frequently calls "Sissy", though on rare occasions, he does call her by name. He is also Riff's cousin and his best friend. His theme song is none other than "BJ's Song".
Creation
The writers added BJ because they wanted a sibling relationship to work with (Barney and Baby Bop are just friends).[1] BJ was named after Sheryl Leach's father, B.J. Stamps.[2]
Design
In his early appearances on the show, BJ was slightly taller than Barney and had a much deeper voice. He was redesigned in Season 3; his height was shrunken to better suit his age of six (and later seven) years old.
BJ always wears his red baseball cap with his red and white sneakers. BJ has three hairs on his head that goes in front of his baseball cap.
Portrayal
Body Costume Performance
Voice
Trivia
Appearances
See Also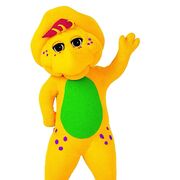 References
Ad blocker interference detected!
Wikia is a free-to-use site that makes money from advertising. We have a modified experience for viewers using ad blockers

Wikia is not accessible if you've made further modifications. Remove the custom ad blocker rule(s) and the page will load as expected.