A Royal Welcome
Talk

2
2,412pages on
this wiki
A Royal Welcome is the 12th episode from Season 5 of Barney & Friends.
Plot
Barney receives a letter from his friend Old King Cole that says that he is coming to visit their tree house. Barney suggests that they make him feel right at home. So, Barney and the kids set out to decorate their tree house to look more like a castle. When Old King Cole arrives, he is so impressed by the gang's preparations that he bursts into one of the greatest dance numbers ever performed by one of Barney's guests.
Educational Theme: Medieval Times
Trivia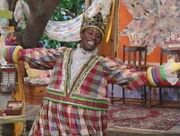 This is the 100th episode of Barney & Friends.
Dewayne Hambrick reprises his role as Old King Cole in this episode. He previously appeared in Barney's Big Surprise, and he would later appear in Can You Sing That Song? in 2005.
This is the eleventh time something happens to the Barney doll before coming to life. It was when a ball hit the tree and the Barney doll dropped into Scooter's hole, then he threw the Barney doll out.
This group (Robert, Chip, Hannah, and Ashley) also appeared in "Let's Eat."
Because this is Old King Cole's only appearance on the TV series, he never appeared with Kim, Danny, Emily, Jeff, Linda, Ashley's sister Alissa, Stephen, Curtis, Keesha, or Kristen.
Ashley wears the same shirt and vest in Circle of Friends.
This is the second time Scooter and Miss Etta appear before Barney comes to life. The first being Pennies, Nickels, Dimes.